CHassan's blog
Multi-aircraft flying.
Tue Jul 19, 2011 1:08 am


Sat I ventured out to the local flying field. One of guys had came by way of his home built Highlander.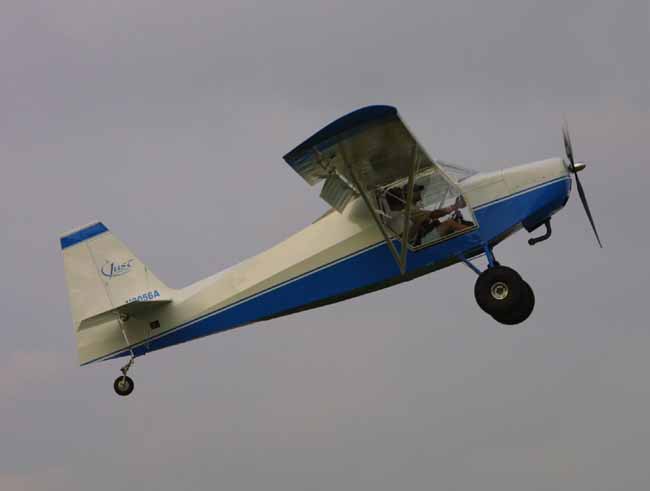 One beautiful plane. (Oshkosh winner)Ended up getting about 30 minutes or so of refresher stick time. After many years it was funny how it doesn't take very long at all to get back into the hang of thing. I set up the approach and The PIC took over around 50'.

We waited around for an overcast layer to build, clear, and build. When it started clearing again it was time to go. First tow took me almost to cloudbase. Got off in lift and almost made my way to the white room. Once I got out from under the cloud I had nothing and was back on the ground fairly quickly.

Tow #2 a few minutes later and I was playing around at cloudbase again. Cloud base was about 2800 and after spending some time flying by feel I headed towards the next cloud. Again, nothing but this time it was a slow ride back down.

A little later the owner of a Monarch Sailplane offered a chance to fly it. I was hesitant, but decided it would be a fun experience. There was not much wind, and late enough in the day to be smooth.


I barely fit the cockpit. Headroom was not a key factor in the design of this thing. We hooked me up to the tow rope and off we went. A little squirrely at first, but soon got it settled down. The rest of the tow was pretty easy as a tad bit of bank and the tug would just pull the nose around.

Once off tow it was pretty smooth. I found me and the monarch like right turns better than left. My sense of coordination to the left is not as highly refined as it is to the right. I don't care what way I turn in ground bound vehicles. Once my feet leave the ground right turns are almost always more comfortable.

So I played around going around the neighborhood, until it was time to set up my approach. This was the part I was dreading the most. We have some powerlines at the end of the runway I had to come over. Not wanting to stall, and wanting to stay out of the power lines I came in a little high and fast, but otherwise a pretty decent approach I think.
I failed to bleed off much of that extra speed te firt time the wheel touched down. I bounced once, twice, and finally stuck to the runway. I still had just enough speer as I crossed the "bump" where the drain culvert runs under the runway. I was instantly launched 15 or 20' back into the air with a very unhealthy attitude.
In my powered training this was a simple case of add power and fly it back down. In a sailplane I really had no clue on how to react.I did what felt right, and I think it may have been wrong. I bounced 3 more time, each time a little harder than the last.
I'd like to say everything was fine, but there were some cracks that have to be patched up. Matt Kollman is on hand to do the repairs, and Dan only paid $250 bucks for the Monarch anyway, but it still makes you feel like s*** when you break other kids toys

The Trackback URL for this entry is:
http://www.hanggliding.org/trackback.php?e=755



Author
Message
Jeff Williams


Joined: 25 Jul 2011
Posts: 2





| | |
| --- | --- |
| Posted: Mon Jul 25, 2011 5:49 pm Post subject: | |

---

seem so fun !
I want to have a glider, but it's difficult for me to own a glider

------------------------------------------
http://www.2011sunglasseshut.com/
Back to top
Jason
3 thumbs up

Joined: 02 Jan 2007
Posts: 9162
Location: Stapleton, Colorado




| | |
| --- | --- |
| Posted: Fri Aug 05, 2011 12:44 pm Post subject: | |

---

"The Monarch does have spoilers. I had them on at
first touchdown. Once I bounced off the culvert hump, I'm not sure. "

That can do it too...if you are running down the runway and the spoilers close.....you are liable to take off again
Back to top
CHassan
3 thumbs up

Joined: 27 Jul 2006
Posts: 4722
Location: Ohio
View Blog



| | |
| --- | --- |
| Posted: Mon Aug 08, 2011 5:36 am Post subject: | |

---

You could see my trail from touch down to where I hit the bump. (complete with divot at that point.) Then with the series of bounces you could see the point of touchdown at each spot. No doubt I was too fast. No doubt the bump launched me back in the air. From that point on was where my lack of stick time got me in trouble. If I let off the spoilers I did right, but I'll bet I tried to force the nose down to keep from stalling.
Back to top
airwolfgunner


Joined: 15 Nov 2010
Posts: 5
Location: NorCal




| | |
| --- | --- |
| Posted: Wed Aug 17, 2011 12:19 pm Post subject: | |

---

Thanks for the post!
Back to top
GraceZin


Joined: 08 Oct 2011
Posts: 2
Location: Woodside, NY




| | |
| --- | --- |
| Posted: Sat Oct 08, 2011 2:35 am Post subject: | |

---

Lovely and I love it.
Back to top

Hang Gliding Org Forum Index -> Blogs -> CHassan's blog -> Multi-aircraft flying.